Debber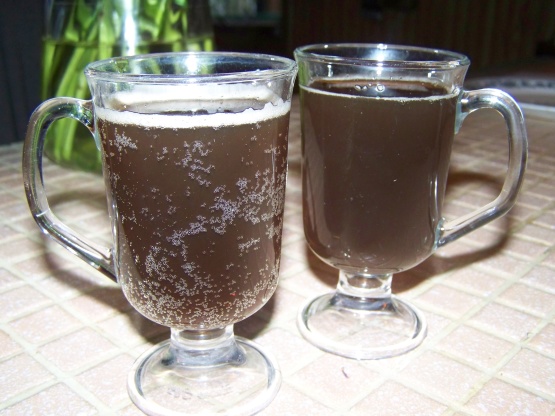 This tastes like a rootbeer barrel candy, but sinful. Recipe from All Recipes.

As I poured the Jagermeister into my shot glass I became very scared!!! No wonder it has taken me 2 years to open this bottle. As I poured, this blackish liquid flowed from the greenish black bottle into my shot glass. Have I opened, the tar pit from hell? No turning back now, the ice was waiting in the glass and the root beer was open. Here it goes, I mixed everything together in the awaiting glass of ice. Kids, DH, I love you, bottoms up.....Oh my goodness, this is so good. The licorice flavor is not as strong as I thought it was going to be. I can't wait to share this at a family gathering. Made for *ZWT4* 2008 game for the *Family Pick Round* I'm playing for *Tastebud Tickling Travellers*
2

fluid ounces Jagermeister

1

(12 fluid ounce) can root beer (or bottle root beer)
Pour Jagermeister into tall glass.
Add root beer and stir.
Enjoy!