I don't recall where I found this recipe butOMG-this is a dessert to die for!! Very rich but oh so goood!!!! Prep time about 2-1/2 hours. This includes chilling time.
Directions
1st LAYER: Mix together ingredients and press into the bottom of a 13x9 dish.
2nd LAYER: Mix together ingredients and spread on top of 1st layer.
Chill in fridge for 30 minutes.
3rd LAYER: Mix together ingredients and spread on top of 2nd layer.
Chill 30 minutes.
4th LAYER: Top 3rd layer with Cool Whip.
Mix together the chopped milk chocolate and peanuts and sprinkle over top of cool whip.
chill at least 30 minutes.
Most Helpful
It really does have a drumstick flavor! As karen in tbay suggested, I added a layer of softened vanilla icecream (about 1 pint) between the 2nd & third layer. Mmmmmmmm! I also used crushed chocolate chip cookies for the crust since I didn't have vanilla wafers. I stored it in the freezer & it turned out fabulous! I will be making this again; it will be a great Summer treat!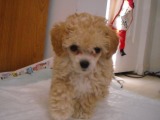 New Favorite! Made this dessert back in August (but forgot to write a review) for my daughter's birthday party, also bought my family's favorite whip cream cake from the Jewel Store that they insist on having at every family birthday party. Everyone ate the drumstick dessert and because it is so delicious & very rich no one wanted the whip cream cake. Drumstick dessert is now our new "birthday cake" and for a lot less $$, I am making two today, because my 13 year old nephew called and requested it for his party. LOVED IT!!!
I made this for a family cookout recently. BIG hit. They loved it. Definately worth making again.