Lvs2Cook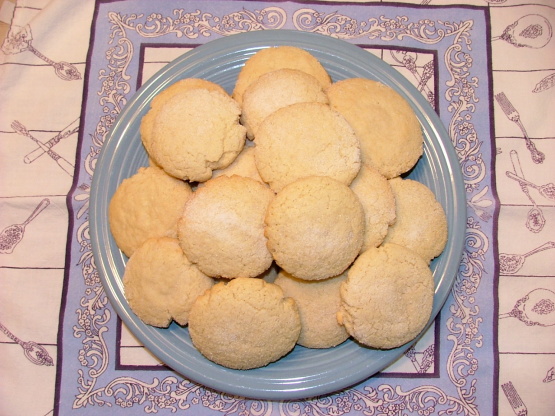 These cookies stay puffy and soft even days after you make them.

Quick & easy recipe. :) I make these using melted coconut oil instead of vegetable oil. I have even made these with freshly ground soft white wheat berries & the cookies were still soft & moist. I like the fact that this doesn't make a huge batch - using a size 40 scoop, I get 2 dozen cookies of equal size. Thanks for sharing!
Preheat oven to 400. Lightly grease cookie sheets.
In a large mixing bowl, beat together oil, sugar and vanilla until crumbly. Beat in egg.
Gradually add in flour, salt, baking soda, and milk. Beat until well-mixed.
Drop by Tbsp on to lightly greased cookie sheets 2" apart.
Slightly flatten each with a flat-bottom glass dipped in sugar (or colored sugar).
Bake at 400 for 6-8 minutes or until edges barely begin to brown.