These were the homemade version of timbits in my house while I was growing up. Best eaten the night made, but just as wonderful the day after.
2 cups sifted flour
1⁄3 cup sugar
3 teaspoons baking powder
1⁄2 teaspoon salt
1 egg, slightly beaten
3⁄4 cup milk
3 tablespoons oil
additional oil (for frying)
Directions
Sift together dry ingredients.
Mix together wet ingredients and incorporate into dry. Stir until smooth.
Drop by teaspoonfuls(no bigger) into hot oil (365 degrees, no hotter), turning after a few moments until golden brown on all sides.
Remove and drain.
Roll in cinnamon sugar while still warm and serve.
Reviews
Most Helpful
To those frying this recipe in 3 tablespoons of oil---The 3 tablespoons of oil is an ingredient. Make the recipe and fry in in a pan of oil.
These were delicious. Crispy on the outside and soft on the inside. I like the fact that I don't have to use yeast and wait to make the doughnuts. Great rolled in cinnamon sugar or plain! The best part is that my 3 year old daughter gave them a thumbs up and she can be picky! We'll definitely keep this recipe and my mom has already asked for it. Thank you for sharing.
I was making my traditional buttermilk doughnuts (Buttermilk Doughnuts Donuts) for guest when additional people showed up. I decided to also make some drop doughnuts to make sure there were plenty to go around. This recipe was very quick and easy and tasty. Everyone enjoyed them even though they preferred the raised doughnuts. One big plus, these definitely kept better and were just as good the next morning.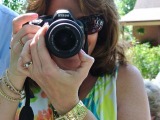 Holiday Central >