Drop Dead Gorgeous - Garlic Studded Roast Leg of Lamb
ImPat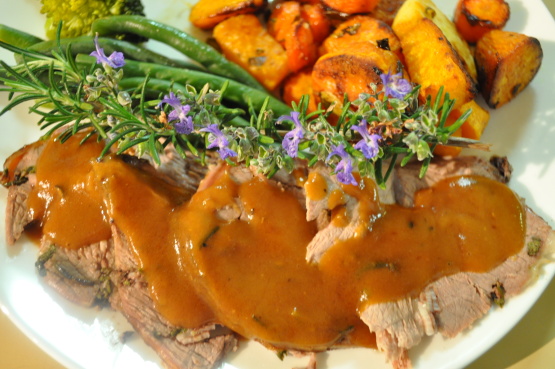 This is the name my daughter came up with when I served this roast leg of lamb for Boxing Day this Christmas holiday! We love roast leg of lamb and this was a variation on my normal way of roasting it. I would have studded the leg with fresh rosemary as well as garlic, but I could not find it under the snow and heavy frost, another time! I am spoilt for choice with fresh lamb in France (and when I go home to the UK), but when I cannot get hold of fresh local lamb, I buy frozen New Zealand or Australian leg of lamb - which is always excellent. One tip I would like to share is ALWAYS allow the meat to rest for at least 10 minutes before carving - it allows all the juices to run back into the lamb and makes it moist, tender and easier to carve. Serve the slices of meat on hot dinner plates with lashings of piping hot gravy and you're done! Roast leg of lamb will go nicely with roast, mashed of gratin potatoes and a medley of fresh seasonal vegetables, especially green beans. Save the roasting juices to make your gravy - allowing them to cool slightly before skimming off the fat that will rise to the surface. This would be an ideal meal for Mother's Day and Easter - Spring lamb is delectable if you can get hold of it fresh.

Top Review by ImPat
O'kay I did not do this exactly to direction but our result was suculent well done lamb - I did the garlic and rosemary (resh from the garden) and rubbed the oil in and poured lemon juice over and then rubbed fresh ground peppercorns in (omitted salt), got phonecall forgot to rub in mustard, baked 2 K leg for 2 1/2 hours and was coooked to well doen on thermometer buit dinner was still and hour away so put lid on pan and turned oven down to 50C (fan forced) and about 15/20 minutes before serving time pull out and covered with alfoil and then carved (or at least DH did). The only other thing I did differntly was to bake the leg on a rack and I put some water in the bottom of the pan to which I added some sprigs of rosemary and cracked peppercorns - which added some wonderful flavour to the gravy (removed rosemary sprigs before makig gravy) and baked the lamb for the first hour with a lid on and then removed. The pan drippings made a fantastic gravy and I served with green steamed vegetables. thank you FT/FS for a lovely lamb recipe, made as a recipenap/recipe present for Aussie/kiwi swap #44 September 2010.
Wash and trim the lamb of any visible and excess fat, dry and set aside.
Cut the garlic into slivers then, with a very sharp knife, make slits into the meat and insert one in each slit, add a fresh sprig of rosemary if using. Continue until all the garlic (and rosemary) is used up and the meat is studded. Brush the surface of the meat with olive oil then squeeze the lemon juice over the top before seasoning with a mixture of salt, freshly-ground black pepper and a teaspoon of English mustard powder.
Place the lamb in a roasting tin. Place in an oven pre-heated to 220C/450F/Gas 7 and roast for half an hour. At this point reduce the heat to 160C/320F/Gas 4 and roast the meat for 60 minutes per kilo - a 3 kilo leg will take 3 hours. (A kilo is just over 2 lbs) Simply allow the meat to cook and do not baste.
When the lamb is ready, take it out of the oven, cover and allow to rest for at least ten to twenty minutes. When you slice the meat you will see that it is studded with garlic, which enhances the flavour of the meat but in a very subtle way.
Serve with gravy, potatoes of your choice and freshly steamed seasonal vegetables.