Bobtail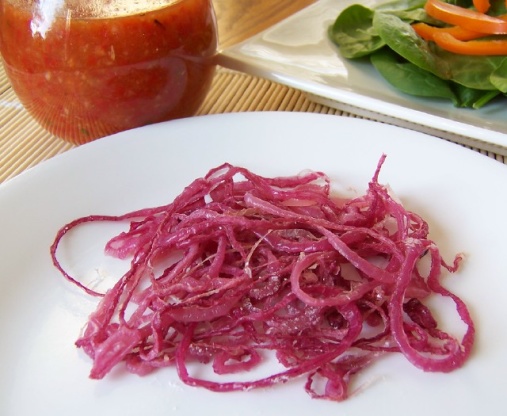 I haven't tried these onions but they apparently make a nice garnish for salads, roasted meats and soups.

I prepared these exactly as directed by the recipe! They are easy to prepare and the time it takes to finish them is not time spent in the kitchen. I cooked the slices 2 1/2 hours. Most of the slices did not crisp up when removed from the oven. The ones that did not get crispy were chewy. The flavor is very good, no matter the texture. I think it could have been one or two reasons that some did not get crispy: needed to cook longer or the thickness of the slices were not consistent. DH and I did enjoy these on a spinach salad for a lovely light summery meal. One odd thing is that they smelled like a cake cooking! LOL! Not a bad thing! Thanks Sackville!
Peel and slice the onion into rings, as thinly as possible.
Take a big pot and bring 500ml of water and the vinegar to a boil.
Once boiling, drop in the onion rings and let the water return to a boil.
Cook for two minutes, then drain and refresh under cold water.
Spread out on paper towel and leave to dry.
After an hour, pre-heat the oven to 60 C or 140 degrees F.
Lay out the onions on a sheet of wax paper, spread over a baking sheet.
Make sure they don't overlap and that they are lying flat.
Sieve the icing sugar over the onions, then transfer the tray to the oven to continue the drying process.
The length of time it takes to dry them will vary.
Allow a couple hours, but keep an eye on them.
When the onions are ready they will still be slightly soft but will crisp up when removed from the oven.