berry271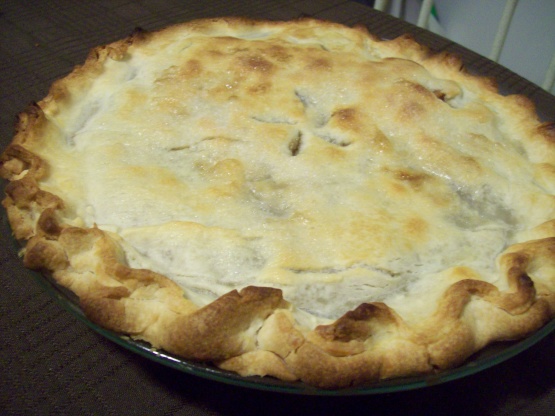 Another easy to make recipe (my favorite kind). I love good recipe, but I like them to be easy. Prep time includes standing time for apples and juice. All else can be mixed while waiting on the apples to stand in the juice.

I am terrible at making pies but this came out WONDERFUL! I've done it twice, once with white sugar in the mix and once with brown sugar. Both pies had crumble toppings. The brown tasted better. (or so said my guests) Great taste and easy to make.
3

cups dried apples
2 1⁄2 cups apple juice or 2 1⁄2 cups apple cider
your favorite recipe for pastry for a double-crust 9-inch pie
3⁄4 cup sugar

1

teaspoon cinnamon

2

tablespoons flour
1⁄4 teaspoon nutmeg
1⁄4 teaspoon salt
Heat juice or cider to a boil and pour over dried apples; let stand for 1 hour.
Cook apples in juice for 10 to 15 minutes or till tender.
Stir remaining ingredients together.
Add to apples and mix well.
Put prepared pie crust in a 9-inch pie pan.
Pour prepared apple mixture into crust.
Top with 2nd crust.
Brush with milk and sprinkle with sugar.
Bake at 400° for 50 minutes or till done.