ccdm2008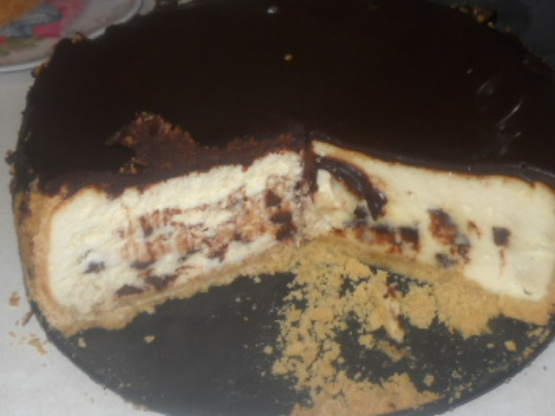 This is a basic cheesecake recipe, it's the one recipe I can count on to always bake out the best, and is very easy to make also, it's a blank canvass for any topping you desire, you can substitute any flavor of extract you desire for the vanilla, I have even used 3-4 tablespoons of Irish cream or use any flavor of liquer the possibilities with this cheesecake are endless, for the best results use only full-fat products for this recipe!

I made this cheesecake a few months ago. I added chocolate chips to the mix and instead of the graham cracker crust, I used shortbread cookies. I made a dark chocolate ganache to the top of the cheesecake...mmm mmm good!! Next time I'll make a turtle cheesecake. The possiblities are endless.
Set oven to 350 degrees.
Grease a 9-inch springform baking pan.
Mix the crackers with melted butter, and press into bottom of the pan.
In a large bowl, combine cream cheese, vanilla and sugar beat with an elecrtic mixer until smooth (about 5 minutes).
Add in half and half cream until well blended.
Seperate the 4 eggs into a bowl (making certain there is no shell) and beat slightly.
Add in eggs to cream cheese mixture, and beat until combined (about 1 minute).
Add in the sour cream and flour; beat until combined and smooth.
Bake for 1 hour.
Turn off oven heat (keep oven door closed).
Let the cheesecake sit in the oven without heat for 1 hour (this prevents cracking).
Chill in the refrigerator about 7 hours (or overnight is even better) before serving.