Dreamy Chocolate Cake With Frosting
Chef Dee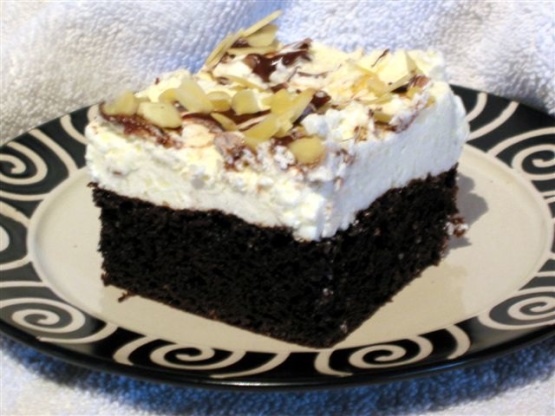 Wow! The first time I tasted this cake I knew it would be a hit. Don't let the long ingredient list dissuade you, it includes the frosting. Easy as pie, you start with a mix, and it really does taste better the next day. The cooked frosting is scrumptious, it is not too sweet and is just the right texture.

The cake was very good, the frosting didnt do anything for us. Much too much butter to be able to taste any other ingredient in the frosting.
Beat the cake ingredients by hand, do not use an electric mixer.
Pour into a prepared 9x13 pan.
Bake at 350 for 40 -45 min's. until done.
Meanwhile, in a deep glass mixing bowl, whisk the cornstarch into the cold milk.
Bring to a boil on med high heat in the microwave whisking often.
Cook until thick, then set aside to cool.
((It is important that the gel be soft enough to spoon out, but firm enough that it can't be poured. If you overcook it, whisk a little warm milk into it until smooth.)).
Beat the margarine, butter, sugar and vanilla until smooth.
Add the cooled gel mixture and beat until set.
Frost the cooled cake, garnish with almonds and drizzled chocolate if desired.