Cuistot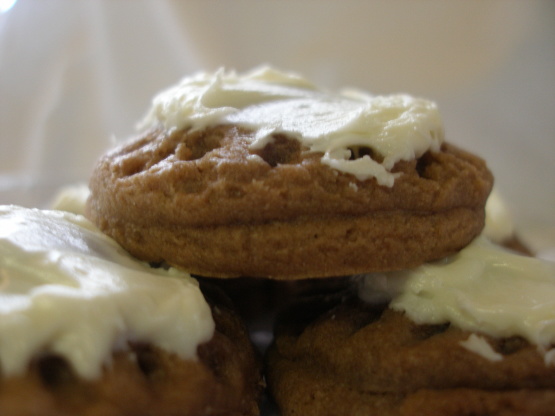 A little chocolate cookie (or sugar cookie if you omit the baking cocoa) with a morsel of peanut butter in the center and a frosting cloud on top.

These were good, but time consuming. I used Reese's baking morsels, they are mini peanut butter cups. They worked well, but really there needed to be two in each cookie at least. I think if I were using chips I'd use 3-4 per cookie so you get a nice gooey center. I'd also add a little more cocoa powder, though I think a chocolate syrup might even be better. I can see mixing this up with different flavor chips.
Preheat oven to 375°F.
Sift together flour, cocoa, baking powder, baking soda and salt and set aside.
Cream butter with sugar on medium speed until light, about 2 minutes. Add egg and vanilla, beating well.
Gradually add flour mixture and blend well. Gather dough into two separate balls, press down to make disks, then cover with plastic wrap and refrigerate 1 to 2 hours, until firm. (will keep up to 1 week refrigerated or 6 months in the freezer).
Using one disc at a time, carefully roll out dough to 4" wide and 1/4 inch thick between 2 sheets of parchment paper. Place 1 morsel onto the bottom half of the dough. Using the bottom parchment sheet, place top of dough over morsels and gently press down over parchment between the pillows to seal. Lift parchment and using a pizza cutter or other sharp object, cut between the pillows to separate.
Carefully transfer to baking sheet and bake for 5-7 minutes till done. Remove to wire rack to cool. When cool, spread tops with cream cheese frosting.