Dreamsicle/Creamsicle Cake
Prep 20 mins
Cook 25 mins

This is a great moist cake with a delicious orange taste. it's another one I got from the local paper. Made a great hit at Christmas. Sorry about the problems some had. I hadn't made this for awhile & didn't remember any problems. I made it again & the solution is do not thaw the cool whip. I used almost 12 oz. & just cut it into the other ingredients. It stayed together enough to frost & get in the fridge. I will change the amount. I thought I had put 8 or more. I think 12 oz would be much better.
1 (18 ounce) box orange cake mix
1 (3 ounce) box orange gelatin
1⁄3 cup oil
1 1⁄4 cups water
3 eggs
1 teaspoon orange extract

Frosting

12 ounces sour cream
1 1⁄4 cups sugar
1⁄2 cup orange juice
8 ounces Cool Whip (or more)
1 (2 ounce) package shredded coconut (optional)
Directions
Cake: Blend all ingredients& pour in 2 9" greased& floured pans.
Bake at 350* for 20-25 minutes.
When cool slice each layer to make 4 layers.
Frosting: Combine sour cream& coconut,if used[I don't].
In separate bowl mix sugar& orange juice til disolved.
Combine with sour cream.
Fold in Cool Whip.
Spread between each layer& remaining on top.
Refrigerate.
Most Helpful
Try this frosting instead:<br/>Mix 1 box Vanilla instant pudding mix, 1 cup cold milk, 1 package dry orange Jello and 2 teaspoons vanilla flavoring. Beat by hand with a whisk until thickened. Fold in 1 tub Cool Whip. Frost the cake with this pudding mixture.
I made the cake itself, not the frosting... I don't dig sour cream so much. Sorry! I instead used it with this: http://www.food.com/recipe/fluffy-white-frosting-128329

But the cake was so good... and easy! I like easy! I brought it into the office and everyone raved about it. THEY ATE THE WHOLE THING! Good thing I got to try some... the cake does live up to its name! And how I love me some creamicles!


Definitely a keeper. Did I mention I love easy?

The end result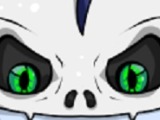 The frosting for this is like soup, very runny. I tried to tweak it, didn't work at all. It was a big disappointment, I couldn't even get the frosting thick enough to try and put it on the cake.