Parsley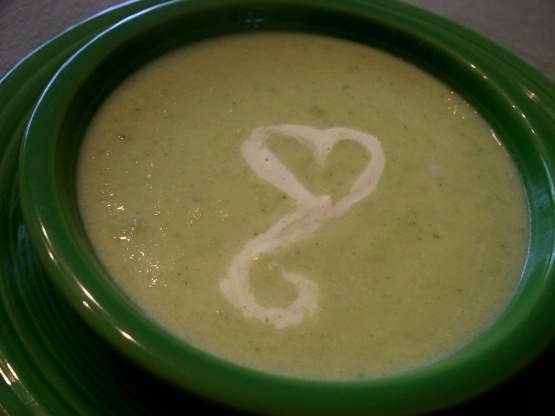 From the November 2004 issue of First magazine. I like the added touch of the "hearts" with each serving.
1

large yellow onion, peeled and chopped

2

tablespoons butter

3

cups fresh broccoli or 3 cups fresh Broccolini, chopped

4

cups fresh chicken stock, divided

1

cup buttermilk, divided

3

ounces goat cheese, divided (chevre is a good choice)

1

fresh bay leaf, bruised

1

dash freshly grated nutmeg
In a stock pot, cook the onions over medium heat in the butter for about 8 minutes. Add broccoli and half the stock; bring to almost a boil.
Using hand held immersion blender, puree the broccoli mixture until smooth.
Stir in the remaining broth, 1/2 cup buttermilk, 2 ounces of the goat cheese, bay leaf and nutmeg. Heat for 5 minutes but do not boil.
Adjust seasoning and add salt and pepper.
In a plastic bag combine the remaining buttermilk and cheese. Mix together. Snip the corner of the plastic bag.
Pipe dots on top of the soup, dragging a toothpick through the dots to form "hearts".
Serve warm.