Nimz1466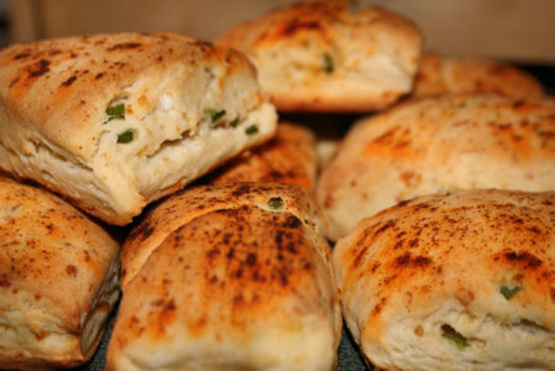 These delicious, tender biscuits have alot of flavour and a little heat. They are wonderful with any meal. Seriously, try them...you'll see.
WOW! These little slabs were incredible! All three of us loved them--even my 5yo DS! The jalapeno I used was not very hot, so the final product wasn't all that hot--but it was chock-full of fabulous flavor! It wasn't much more difficult to make than biscuits, although I did have a bit of trouble working the cheese mixture into the dough (it kneaded in pretty nicely, though). The three of us ate about half the batch--we just couldn't stop! Thanks so much for sharing this recipe, Baby Kato--DH has already told me this will be a frequent request! Made for Market tag game.
Preheat oven to 450 degrees.
Dissolve yeast in 2 tbsps of warm water.
Set aside.
In large bowl add flour, baking powder, baking soda, sugar, garlic powder and salt.
Cut in butter, until well blended.
Next, lightly stir in buttermilk and yeast mixture.
Now add the shredded cheese, finely chopped onions and minced peppers.
Beat well.
On a lightly floured board knead until a smooth dough forms. If you need to add more flour, please do so (1/2 cup).
Then roll dough 1/2 thick and cut into two inch squares.
Place biscuits on a lightly greased sheet and brush with melted butter.
Finally, sprinkle with paprika and dried thyme.
Bake in a 450 degree oven for 10- 12 minutes or until golden brown.