Dr. Siegel's Diet Cookies
bestbema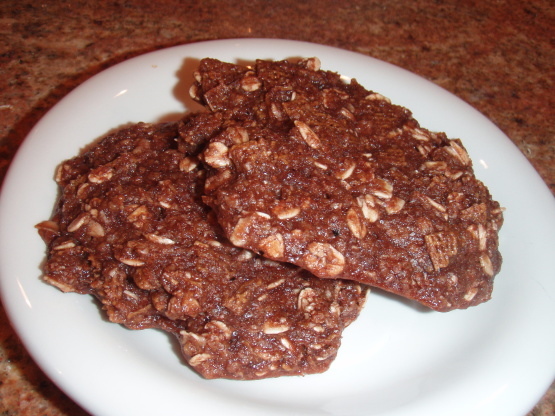 From a friend who obtained it from a famous diet Doctor. Eat 6 cookies throughout the day along with 6 oz. fish or chicken, 2 cups veggies and a salad for dinner. Use diet for one month and you can expect a 15 lb. weight loss. I tried them and they are tasty but would add maybe add 1/2 cup of Spenda and more spices next time! They DO fill you up!! Can't vouch for weight loss yet but sounds like it will work!!!

Amazing cookies. With these changes, there are 75 calories per cookie: add 1/4 tsp more cinnamon and 1 Tbsp more cocoa. Add 1/2 tsp ground cloves and 1/2 cup unsweetened applesauce. Use Splenda baking blend instead of sugar. With a small ice cream scoop, the recipe always makes 28 cookies for me. I eat 6 of these a day (plus a beverage with each one) and 750 calories of other food, and the scale gives me a new, better number almost every day. I'm never hungry. This is a diet I can stick with for as long as it takes. Even after I reach my goal weight, these cookies will be my snack of choice. I keep some in my purse at all times.
Preheat oven to 375° Fahrenheit.
Combine first 8 ingredients in large bowl, mix well with spoon.
Blend banana, butter, sugar, eggs, egg whites, and vanilla at medium speed with an electric mixer until well incorporated.
Add wet ingredients to dry, mix well and allow to stand for 5 minutes.
Divide in half, then half again.
Each portion makes 6 cookies. (I used an ice cream scoop to measure out the dough.).
Bake for 12 minutes on cookie sheet or parchment paper.
Cookies spread very little during baking. Allow to cool slightly and transfer to wire rack.