Dr Seuss's Green Eggs and Ham
Zurie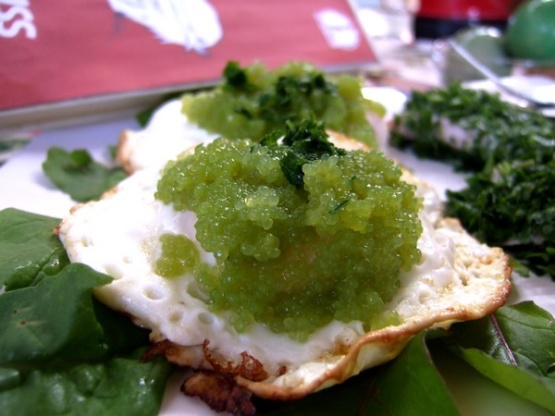 Created for a Photo Forum challenge. The Wasabi Seaweed Caviar is fairly easily available here. IMPORTANT NOTE ON FEB 7, 2012: The wasabi seaweed might have too much of a kick for kids! It's better by far to use guacamole instead of that!! Nice for adults, though, that wasabi kick!! It's just a FUN recipe for "Pick a book title -- and match with a recipe" in the July 2011 Photo Forum.

I dear friend of mine was able, within the week, to get for me some wasabi seaweed caviar (She's great when it comes to hunting down unusual ingredients for me!) & so I was able to make this most unusual recipe pretty much as given! I'm not that big on caviar of any kind, but the idea of the recipe intrigued me, & so I made one for her & one for myself! She thought it was outstanding, & I thought it was, yes, pretty good! And so, bowing to my friend's effort & enthusiasm, I've let her rate your recipe ~ A solid 5 stars! Thanks for sharing it! [Made & reviewed in Zaar Chef Alphabet Soup tag]
1

slice bread

2

eggs

2

slices ham

2

tablespoons mayonnaise
1⁄3 cup parsley, very finely chopped
arugula leaf (rocket or roquette elsewhere)

2

tablespoons seaweed caviar (imitation, made from seaweed, wasabi flavour, OR use guacamole for the kids)
Toast the bread, butter, and keep warm on a plate.
Spread the mayonnaise on the ham slices, then pat on the finely chopped parsley, roll up, and arrange on the plate with the toast.
Use some butter to fry 2 eggs, sunny-side up.
Arrange arugula on or under the toast, so the leaves show. Put the fried eggs on top.
Top each egg with a tablespoon of the green seaweed caviar or guacamole. You can also add another pinch of chopped parsley on top.
(This "wasabi seaweed caviar" is entirely natural, only has a wasabi flavour and none of the bite. It looks like green lumpfish caviar).