Dr. Seuss' Purple Popcorn Muffins
Prep 20 mins
Cook 20 mins
Our school is involved in Read Across America program that is held annually to celebrate Dr. Seuss' birthday. Room A5A created a new muffin in honor of this event. It's a simple recipe that uses grape jam, a children's favorite.
Directions
Sift flour, measure and sift with baking powder, salt, and sugar.
Add milk, popped corn, eggs and melted butter.
When batter is mixed, stir in 1 teaspoon lemon juice.
Spoon half of the batter into 12 greased muffin cups.
Spoon jam into the center of each muffin cup.
Spoon remaining batter over jam.
Swirl a little jam through the top of each muffin.
the well-oiled muffin tins should be 2/3 full.
Bake in pre-heated oven (435 F) for 20- 25 minutes.
Makes 12 regular size muffins.
Most Helpful
This went over very well at my house. I skipped twirling the jelly (I used red-raspberry)through the top. Everyone wished I had not been lazy as they would have enjoyed more of the jam! It made 16 muffins for me.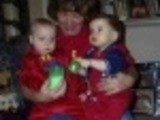 I was a little worried about these, I admit, but they're really good! I made a couple minor changes- I substituted blueberry preserves for the grape jam, whole wheat pastry flour for the white (I always do this), canola oil for the butter and substituted buttermilk for the milk/lemon juice. All in all, it worked well- next time I would use a more strongly-flavored jam; the blueberries are rather mild, but I think pretty much any other jam or preserves would do with the exception of maybe apricot. I halved the recipe because I had a sneaking suspicion that the recipe is for 12 jumbo muffins, not 12 standard-sized. I got 12 regular-sized muffins, so I guess I was right! I really enjoy the tender chewiness that the popcorn gives these- I couldn't get my pieces to grind terribly small, but they sort of melt into the muffins anyway. I think you could knock down the salt a bit too- I only used 1/2 of what is called for and they were plenty salty- I think that the popcorn tastes a bit naturally salty. Anyhow, all in all this was a nice, unusual recipe- I liked the popcorn in the muffins more than I thought I might! Thanks for posting, Room A5A, I look forward to trying your other variations of the "popcorn muffin!"