Prep 15 mins
Cook 30 mins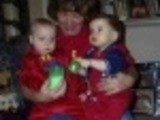 This is just a great cake that I learned about from a friend. It seems coke is used in a lot of recipes and also 7-up/Sprite. This is unique in that it uses Dr. Pepper.
Directions
Heat 1 Cup of butter and Dr Pepper.
Add the cocoa, cinnamon, flour and sugar to the butter mixture.
Mix the eggs, buttermilk, soda and vanilla and add to the rest of the mixture.
Pour into prepared 8 or 9 inch pans.
Bake 30 minutes at 350 degrees.
DR PEPPER ICING Heat butter, Dr Pepper and cocoa stirring until well blended.
Stir in remaining ingredients.
Frost cake.
Most Helpful
Very good recipe! I made 24 cupcakes. Since I am the only chocolate lover in my family, I left the cocoa out to make them vanilla Dr. Pepper cakes. I put 1/2t. vanilla and a splash of Grenadine in the icing - delicious!

I've been making this for years and love the uniqueness of it compared to coke/7-up cake. Believe it or not, the recipe I have also includes mini-marshmallows in the batter, just in case there wasn't enough sugar, lol. The frosting is very sweet and oftentimes I just sift powdered sugar over it or make half a recipe of the frosting, heat it and drizzle like a glaze to get a touch of extra flavor without the gooey sweetness. :o)

Made this cake yesterday and thought it was just okay. Would have given it maybe 3. But we tried it again today, and it tastes a lot better. Quite a lot better, in fact. The cake kind of solidified into a denser yet still moist cake. My hubby who absolutely detests Dr. Pepper and claims that he can taste it in the cake loved it. I guess this is one of those cakes that you just have to try for yourself. Didn't use all of the sugar called for in the frosting and I added a little vanilla. With a cooked frosting you just need to make sure you get it on the cake right away. The longer you wait the more difficult it is to spread. I liked the consistency of it after it set.