Parsley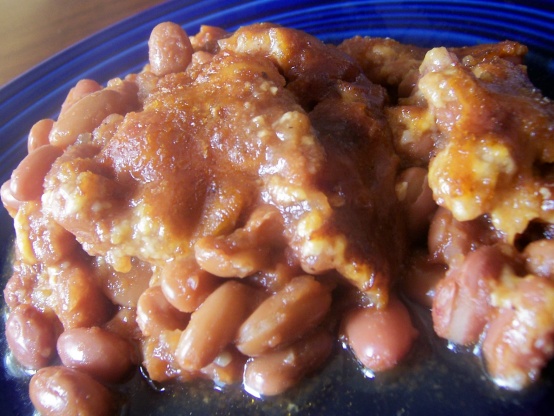 These are really excellent! A little soupier than I prefer but that's just me. I did not add the kielbasa as I was making these as a side for pork chops, or the cheese & crumbs though I may add a little cheese to the top when reheating leftovers later. These are nicely tangy and pleasantly spiced. Thanks very much for the recipe!
Set oven to 375 degrees.
Butter a 3-qt baking dish.
Heat a skillet over med heat with 1 tbsp oil.
Add sausage, and 3/4 cup Dr Pepper drink; bring to boil.
Cover; and lower the heat.
Continue cooking about 30 mins, until Dr Pepper becomes syrupy.
Drain the pinto beans; place in a large saucepan, add 1 cup Dr Pepper, ketchup, wine vinegar, Worcestershire sauce, Tabasco sauce, soy sauce, garlic, onion and salt.
Bring to simmer, stirring occasionally.
Season with black pepper.
Pour into a 3-qt buttered baking dish.
Stir in sausage mixture.
Top with cheese and bread crumbs.
Bake, covered for 40 mins, or until cheese is melted, and mixture is bubbling.