Dr. Jim's Tomato-Peach & Pear Chutney
Kat Kirk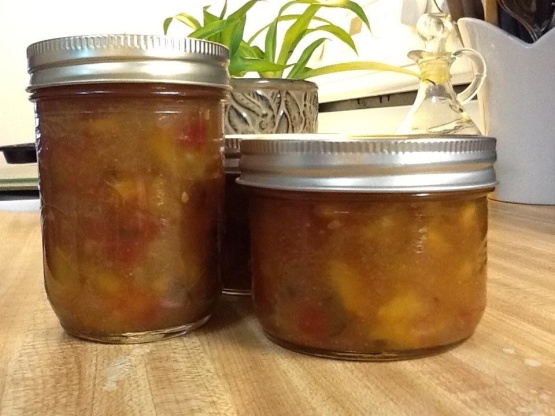 This recipe requires that you boil your jars and lids in preparation for canning. You will need 4 pint size glass jars. Once the chutney is in the sterilized jars they should be processed for 5 minutes in a hot water bath. Please note, I didn't include the time for the canning in this recipe. Back in 2000 I lived with my sister and her hubby up in Canada. In the fall we got together and made this recipe. We spent a whole day preparing the ingredients and cooking it up. Since I helped out I got a couple of jars of this delicious chutney. Its about the best I've ever tasted.
Dice the tomatoes, peaches and pears; you should have about 8 cups total.
Place the peaches and pears in a 5 quart pot along with the peppers, sugar, vinegar, salt, ginger, mustard and Tabasco.
Bring to a boil over high heat.
Stir in the tomatoes, reduce the heat to medium and boil gently, uncovered and stirring often, until mixture thickens slightly. About 1 hour.
Stir in the pimentos.
Boil gently, uncovered and stirring often until thickened. About 10-15 minutes.
Put into prepared canning jars and store in a cool place.
I doubt this chutney will last long, so you might want to make more.
Bon Appetit!