Down Under Thunder Chocolate Brownies
katew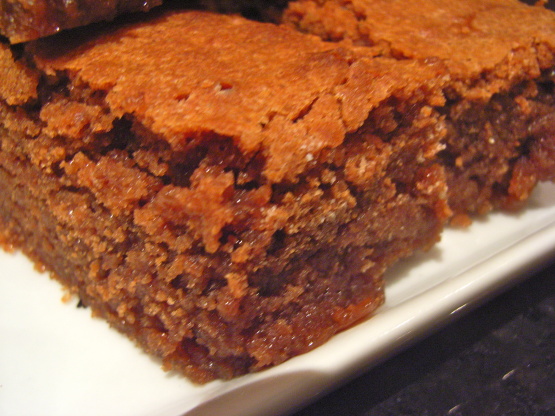 I just received this recipe from a a good friend in Melbourn so, of course, I had to post it here. The instructions are exactly as I received them :D
I made these for a 11 year old boy I know...He told me that these were very fudgy brownies, they tasted great but were very soft, his mom put them in the freezer to firm up. I cooked these babies for 35 minutes, next time I will cook them for 45 - 50 minutes. Thanks for sharing Annacia. Update: The frozen brownies disappeared in about 30 min, the little guy said he turned around and they were gone, his older brother and friends wolfed them all down...he asked me to make these again real soon.
Preheat oven to 325°.
Cream butter, sugar&vanilla.
Beat in eggs.
Blend in melted chocolate.
Beat in flour and if so desired, nuts. (I just sprinkled my nuts on the top prior to baking. Yes, they were an after thought.).
Bake in an 8x8 pan for 30-35 minutes.
Cool.
Drool.
Cut into squares.
Hide in closet and eat.