Down on the Farm - Fried Ham Sandwich - Longmeadow
SharonChen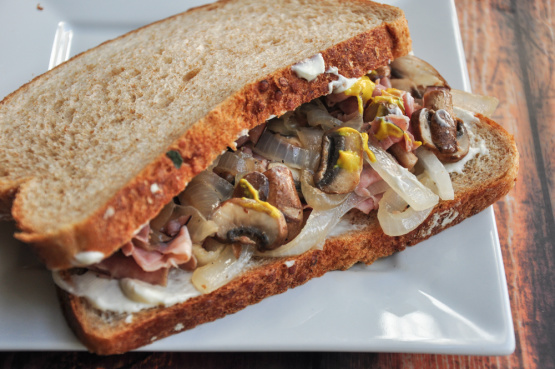 I was in the nursing profession many, many, years ago. When the nursing staff was allowed to take a lunch break, I would meander down to our hospital cafeteria and order up one of these sandwiches. Of course, the cafeteria chefs had a special "seasoned grill" that punctuated years and years of cooking delectable delights, the way it used to be cooked, without the use of microwaves, and or already prepared, "boiled - in - the - bag" foods that came from "Sysco". These amazing chefs even had special spatulas that you could easily imagine the pounding and flipping going on, being delicately tossed in the air, as somehow this made the food taste even more spectacular. After paying for the sandwich, I would sit down, and carefully open the wrapper, and inhale the aroma of freshly cut ham, the sweetest, most soft bread that I have ever known, and the mixture of ham juice and a bit of butter that warmed the ham prior to marrying with the bread. Needless to say, I always looked forward to this break, and on the occasion of visiting this hospital even today, I reflect back on those days of good ol' cooking as it used to be, and the delights these very special chefs produced. To this day I still make these at home, occasionally for lunch or a quick dinner. After the cafeteria chefs put this yummy sandwich together they would wrap it in (1) wax paper (2) then aluminum foil. By the time you got to your table, the tastes had developed and probably steamed in the combination of wax paper and foil. Either way, I guess these magical chefs will never be forgotten as this made my day complete, every single day. I hope you enjoy this sandwich as much as I. Try the wax paper and foil too, [if you have time].....you will see what I'm talking about.

Ah, the simple joys in life! This is assuredly one of them. Love, love, loved the fried onions and ham on the toasted pillowy-soft hamburger bun. I added a handful of shredded aged cheddar and enfolded the whole thing in the waxed paper/foil as instructed. The steam action totally makes it!
4

slices bread (suggested country white-any will do)

2

ounces deli ham (sliced in slivers)

1

small onion, sliced very thinly

1

tablespoon mayonnaise (can be reduced fat)
1⁄2 teaspoon butter (or margarine) (optional)
Spray skillet with cooking spray. If using optional butter, melt this in pan until completely melted.
Toss in onion and cook until translucent. (about 2/3 minutes).
Add ham on top of onion, and continue to warm on medium heat for 3/4 minutes.
Flip over ham/onion and continue to warm for 2 more minutes.
Spread bread with mayonnaise add warmed ham/onion mixture.
Press down tops of bread, and kinda "smash" together.
Cut in half and devour.