2Bleu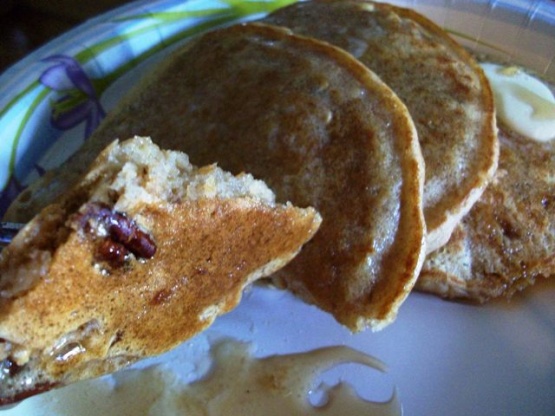 This recipe was found in the As You Like It Cookbook, 2001 along with its vegan counterpart! We find them very satisfying when topped with a simple, not too sweet, homemade fruit sauce like blueberries!

These are terrific pancakes! Very light and fluffy, which is surprising with the wheat and oat flour. The cinnamon was a great addition, giving these that little extra something without tasting strongly of cinnamon. Loved these - thanks for sharing the recipe!
In a large mixing bowl, whisk together the flours, baking powder, cinnamon, baking soda & salt, then set aside.
In another mixing bowl, whisk together the water, milk, egg, maple syrup & butter, blending well.
Pour wet ingredients into the flour mixture, & mix together with a wooden spoon.
Heat the oil in a large frying pan over medium heat.
For each pancake, pour 1/2 cup of batter into the frying pan & spread into a 4-inch circle, then cook about 1 1/2 minutes, or until the tops are bubbly & the edges are dry.
Using a spatula, turn the pancakes over & cook for another minute, or until the bottoms are golden brown.
Serve hot with the topping of your choice.