Down Home Macaroni and Cheese
SharonChen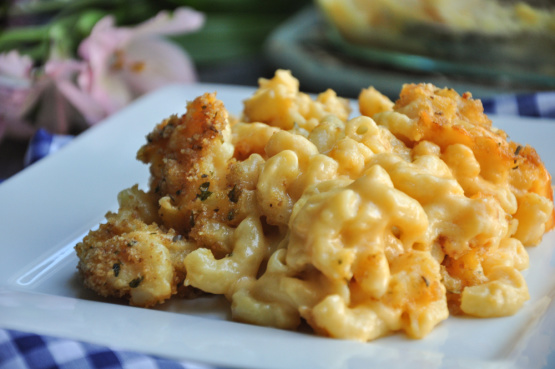 My kids don't like most homemade macaroni and cheese dishes, but they love this one. It is creamy and cheesy!

This worked very well for me. I have struggled in the past at making mac and cheese. I used a can of evaporated milk and then top off with 1% milk to make 2 cups. Unfortunately, I didn't have any breadcrumbs but I bet it is even better with them. I did add a little dry mustard, but other than that followed the recipe. This recipe is very good. Thanks! Couple of hints for those who had texture problems....make sure you let the milk, flour, butter mixture thicken before adding the cheese. Also, a hint I picked up from another recipe - remove the thicken milk, flour, butter from the heat before adding the cheese in. That way the cheese doesn't "break" and give a grainy texture.
Melt 3 tablespoons of the butter in large saucepan on low heat.
Blend in flour and salt; cook and stir 1 minute.
Gradually add milk; cook, stirring constantly, until thickened.
Add prepared cheese product and 1-1/2 cups of the shredded cheese; stir until melted. Stir in macaroni.
Pour into lightly greased 1-1/2-quart casserole.
Melt remaining 1 Tablespoon butter; toss with bread crumbs.
Sprinkle casserole with remaining 1/2 cup cheese and bread crumb mixture.
Bake at 350 degrees F for 20 minutes or until thoroughly heated.