Down Home Grilled Hamburgers
Leslie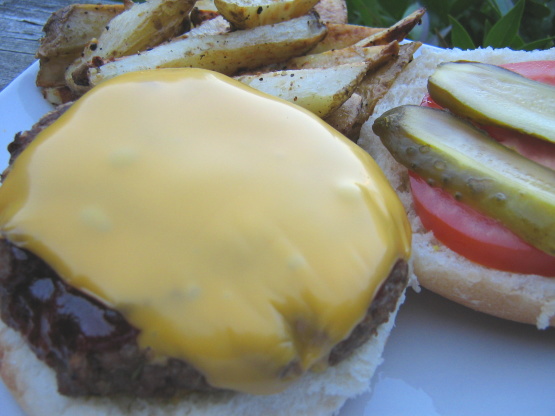 I can honestly say I will never ever make another kind of grilled hamburger. These are wonderful. I found this recipe online a few years back and make them as often as I can. The ingredients sound a little strange because of the sour cream, but I think that's what makes them so good. Make sure to keep the patties well chilled until ready for the grill. I generally double or even triple this recipe for company. *NOTE: Make sure these burgers are chilled very well, otherwise they will fall apart on the grill.

Top Review by BBQ365
These are really good. We make up a bunch and freeze them. When we go to use them we just take them out and throw them on the grill. They come out great. Never had them fall apart.
Mix sour cream, chopped green onions, bread crumbs, Worcestershire sauce and lemon pepper seasoning.
Mix this in with the ground meat until combined well.
Shape into 4 patties.
Place on waxed paper lined cookie sheet.
Cover with foil or plastic wrap.
Place in refrigerator until well chilled, otherwise they fall apart.
I usually make them in the morning to cook early evening.
Grill on Medium High heat for 4 to 6 minutes on each side.
Serve on Hamburger bun with toppings to your liking.
Enjoy!