Dougs Ultimate Hamburgers
Boomette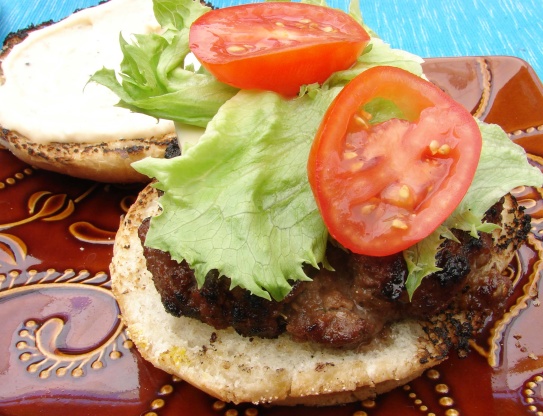 a recipe I came up with one night, that was created on my own, Very good.
I made the recipe for 3 burgers (but we made 4). I didn't reduce the soy sauce, but I used half the amount for the barbecue sauce. I used probably only 1 tsp of honey. I used garlic powder instead of garlic salt. The taste of these burgers are great. So yummy. But DH complained that the meat was falling apart easily. I think only my burger was looking good for the photo ;) So next time I may add more breadcrumbs or an egg. Thanks weekend cooker :) Made for PRMR tag game
Thaw ground beef.
Add soy sauce, and barbecue sauce and mix well.
Add steak sauce, and hot sauce and mix well.
Add honey and mix well.
Add breadcrumbs, and mix well.
Add parmesan cheese and mix well.
Add garlic salt, minced onion, and oregeno leaves and mix well.
Shape into 6-8 patties, and bake for 12 minutes each side, in oven, or 6-8 minutes on the barbecue each side.