alligirl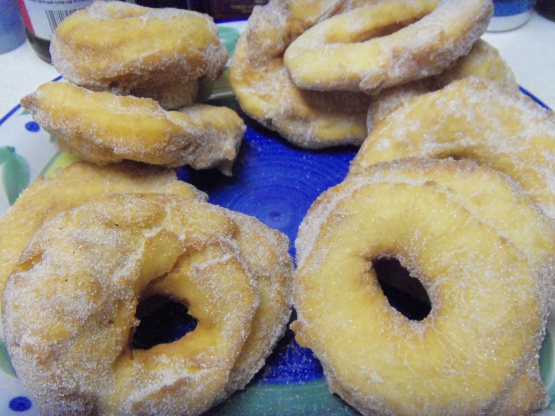 THIS is from a old cook book and its a rhyming recipe. It's just such a neat recipe I thought other people would enjoy it as much as me. It's a little bland--it may need more nutmeg. From History in the Baking, Minnesota.

This recipe is awesome! I just put flour on my hands and roll them into balls to make doughnut holes and afterwards rolled them in colored sugar for holiday colors. I tried a recipe the other day that was a little harder to work with and I must say, I will never use another doughnut recipe but this one.
One cup sugar, one cup milk, 2 eggs beaten fine as silk, salt and nutmeg (lemon will do), of baking powder teaspoons two.
Lightly stir the flour in, roll on pieboard not too thin.
Cut in diamonds, twists, or rings; drop with care the doughy things - into fat that briskly swells, evenly the spongy cells.
Watch with care the time for turning, fry them brown just short of burning.
Roll in sugar, serve when cool, price a quarter for this rule.