Double Thumbprint Cookies
berry271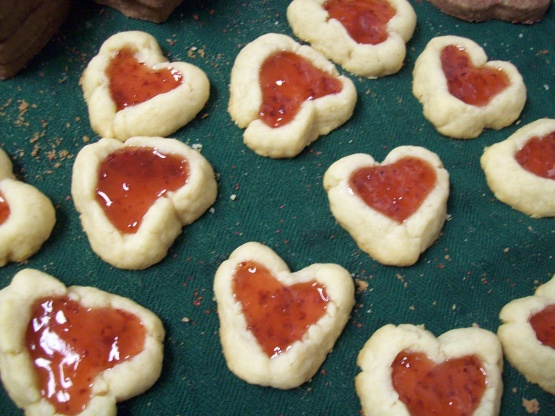 A different take on a classic cookie, wonderful for valentine's day, a new recipe from BH&G. I used extra jam in mine and drizzled them with a glaze.

These were very good--though I may stick with more of a shortbread for my next batch of thumbprint cookies. (The technique for making the hearts worked very well!) The cookie base almost tasted like a Newton to me, which is not what I was going for! Thank you for the cute cookies!
Preheat oven to 375°.
In a large bowl beat butter with an electric mixer on medium to high speed for 30 seconds.
Add granulated sugar, brown sugar, baking powder, and salt.
Beat until combined, scraping the sides of bowl occasionally.
Beat in egg, milk, and vanilla until combined.
Beat in as much flour as you can with mixer.
Stir in any remaining flour by hand.
Shape dough into 3/4-inch balls.
For each cookie, place 2 dough balls side by side with one side touching on an ungreased or parchment lined cookie sheet.
Press thumbs into each ball to form an indentation in each Press in center of each with thum and taper bottom of cookie with fingers to form heart shape.
Repeat with remaining dough balls leaving about 2 inches between cookies.
Bake 7-9 minutes or until edges are lightly browned.
Remove from oven transfer to a wire rack.
While warm, fill each indentation with jam.
Cool completely.
Make 24-30 cookies depending on size of the dough balls you make.