Double-The-Cheese, Ham-N-Vegie Pizza
VickyJ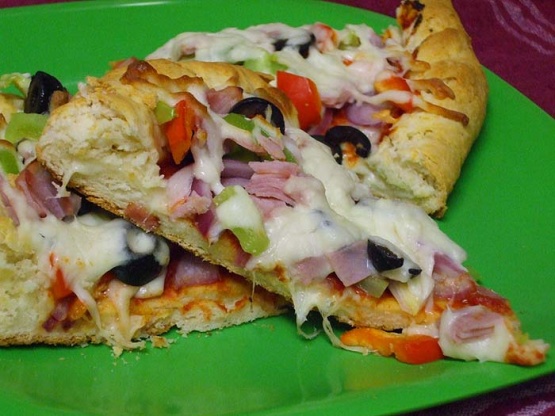 I came across a recipe online that was for a stuffed-crust pizza, and I decided to change the recipe according the ingredients I had on hand. This is a simple way to make pizza, when you don't have a lot ot time.

Seen your photo in the photo forum and knew I had to try this recipe. What I liked about it was it was easy to make. I do think next time that I will add somekind of spice such as Garlic Powder and some Italian Seasoning to the dough part. I also made the pizza with Canadian bacon and some Carnation Pizza sauce and the veggies stated in the recipe. Added Mushrooms too. It was a delicious pizza with biscuit like dough. Thanks for sharing the recipe!
Preheat oven to 450°F.
In large bowl, stir Bisquick mix, water and oil until soft dough forms; beat vigorously 20 strokes. Let stand 8 minutes.
Move oven rack to lowest position. . Grease 12-inch pizza pan with shortening or cooking spray. Press dough on bottom and 1 inch over side of pizza pan. Place string cheese along edge of dough. Fold 1 inch edge of dough over and around cheese; press to seal. Bake 7 minutes.
Spread tomato paste over crust. Top with onion, green pepper, roasted red pepper, ham and olives. Sprinkle with mozzarella cheese. Bake 8 to 10 minutes or until crust is golden brown and cheese is melted.