Bergy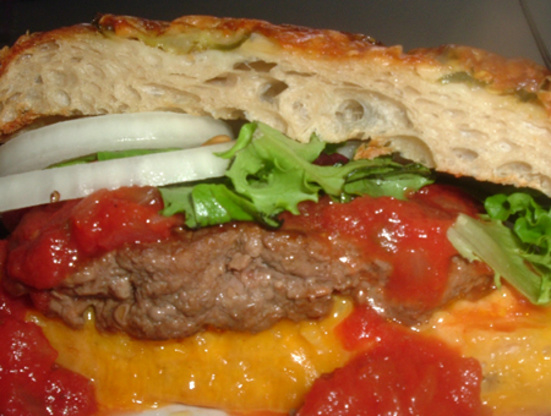 Better Homes and Gardens recipe. Haven't tried this one yet, but am putting it in my summer recipe file.

Top Review by Bergy
Definately a 5 star burger. Lovely Salsa recipe - I cooked my salsa for 10 minutes only because I made it in advance and didn't want it to spoil. This is a great Memorial weekend burger. I served it on Asiago ciabbata bread. It really complimented the burger. I didn't have any sour cream or guacamole but did add a slice of Vidalia onion. Thanks AZRT for another winner of a burger
Directions.
1. For salsa, in a bowl combine tomato, green sweet pepper, onion, jalapeno peppers, garlic, cilantro, and salt. Set aside 2 tablespoons of the salsa. Cover and chill remaining salsa until serving time.
2. In another bowl combine ground beef and the 2 tablespoons of salsa; mix well. Shape mixture into six 1/2-inch-thick oval patties. Grill patties on an uncovered grill directly over medium coals for 13 to 15 minutes or until an instant-read thermometer inserted in side of patty registers 160 degrees F., turning patties once halfway through grilling time. Arrange shredded lettuce on individual plates. Top with burgers, remaining salsa, and cheddar cheese. Serve with sour cream and/or guacamole.
To grill by indirect heat: Arrange preheated coals around a drip pan in a covered grill. Test for medium heat above pan. Place patties on grill over drip pan. Cover and grill for 18 to 20 minutes or until no pink remains, turning patties once halfway through grilling time.
Make-ahead tip: Prepare salsa; cover and chill up to 24 hours. Use 2 tablespoons salsa for burgers. Serve burgers with remaining salsa.