Syrinx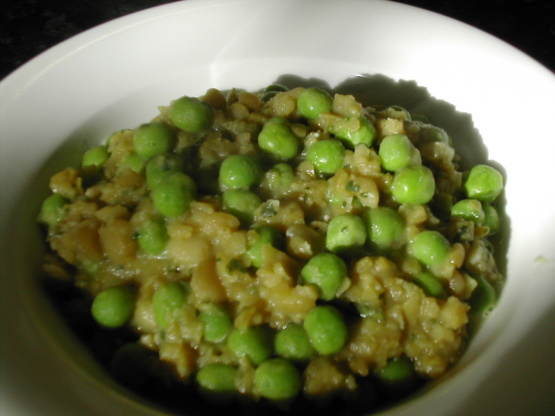 This is something I cook a couple of times a month, because we all like it so much. I am posting it here at the insistence of my children, who think it's something that everyone would like to eat. We tend to serve Double Pea Mash as a side dish instead of potatoes, as a carbohydrate sort of thing (I don't like potatoes). The recipe was inspired by a suggestion on another web forum for a puréed mixture of cooked peas and split peas - but I wanted to make something with a bit more texture. Note that you can vary the flavourings according to whatever you have got available. Also worth noting is that some packets of split peas say they should be soaked before cooking - I don't do this, so I haven't included soaking time in my estimate. I hope you enjoy it - we do!

Top Review by J-Lynn
I liked this but it didn't turn out too well. I did make it in the morning, and then refrigerated it until dinnertime. The result was very stiff unattractive glop. I also am not sure that I had cooked the split peas long enough. I mashed as well as possible with a fork but in the end I could still detect little hard pieces. My hubby didn't object too much, but wished for bacon to give it flavor. Maybe I'll do that next time.
500

g split peas, rinsed (yellow or green)

500

g frozen peas

4

tablespoons olive oil

1

lemon, juice of

1

garlic clove, crushed very fine
1⁄4 cup mint leaf, chopped
In a large saucepan, cover the split peas with water, bring to the boil, then simmer until the peas are soft but still holding their shape. Don't turn it into soup! This stage usually takes me 35-40 minutes, but varies according to the type and age of the split peas.
Drain the peas then return them to the pan and mash them with a large fork (laborious) or a potato masher (much easier). The texture will be like very dry mashed potatoes.
Add the frozen peas (still frozen), the olive oil, the juice of a lemon, the garlic and the mint, and beat furiously with a wooden spoon over a low heat. The liquids will loosen the texture up a bit.
When the Double Pea Mash has heated up again and the frozen peas are frozen no longer, season to taste with salt and freshly ground pepper.
Taste the mixture, and if you think it could benefit from more olive oil, garlic, mint or lemon juice, then add them.
Serve! Enjoy! Go back for seconds! (That is, if there is any left to go back for. My children eat vast quantities of this, given the chance.).