Double-Onion Smashed Potatoes
Boomette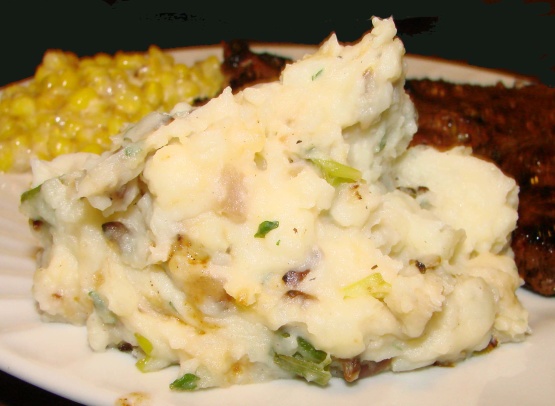 This recipe features sauteed shallots and red onion. For richer mashed potatoes, without added fat, use buttery-tasting Yukon Gold potatoes to make this side dish.
These potatoes are so good. I used green onion instead of shallot. And dry parsley. I cooked the onion and green onion longer than 5 minutes cause I wanted them to be browned. To give more taste to the potatoes. They had a great texture. Thanks Lainey. Made for Holiday tag
In large pot, combine potatoes with enough salted water to cover.
Bring to boil; cook until tender, 20 minutes.
Drain; return to pot.
Meanwhile, in skillet, melt 1 T butter over medium heat.
Add onion and shallots, cook stirring, until tender, 5 minutes.
Remove from heat; stir in parsley.
Reserve.
In microwave-safe bowl, microwave milk and remaining butter on high 30-60 seconds until hot.
Add milk mixture, salt and pepper to potatoes; mash.
Reserve 2 T onion mixture, stir remainder into potatoes.
Serve potatoes topped with reserved onion mixture.