mianbao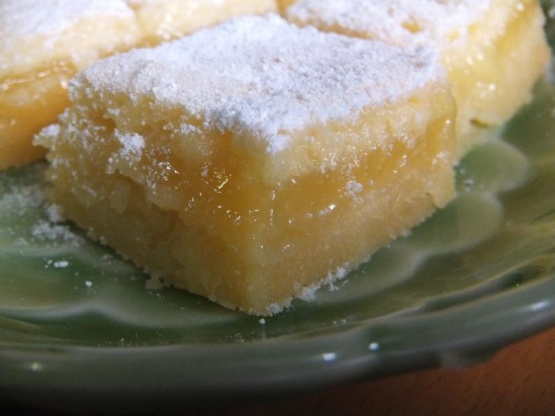 I got this recipe from my gourmet cooking class in college. There is nothing gourmet about these fancy little lemon bars other than the fact that we cut them with fancy cutters and served them on a tray with a bunch of other "fancy" bars and cookies for a reception we catered. They're so easy but nobody will ever know!
Preheat the oven to 350 degrees.
CRUST: Using an electric mixer, beat butter until fluffy. Beat in the powdered sugar. Add 2 cups of flour one cup at a time, beating until moist clumps form. Using the back of a fork, press the dough over the bottom of a 9 x 13 pan. Bake the crust until light golden, about 20 minutes.
FILLING: Beat the sugar and eggs in a medium bowl until blended. Beat in the fresh lemon juice, lemon peel, and baking powder, then the remaining flour. Pour the filling over the hot crust and bake until the filling is set in the center and begins to brown, about 20 minutes. Cool completely before cutting. Sprinkle with powdered sugar.