Double Layer Coffee Almond Fudge
dizzydi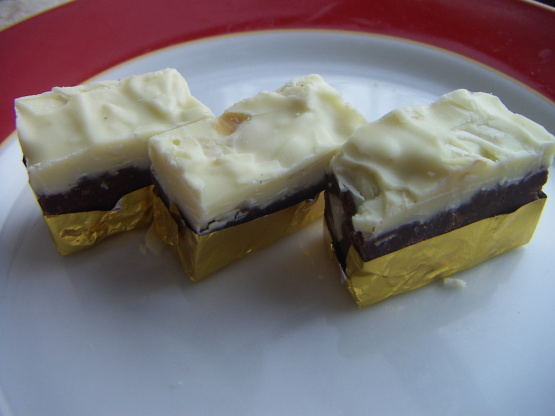 A Delicious two layer fudge with almonds and a touch of coffee, This fudge is quite rich and I normally make it in a small batch but you could easily double it and use a larger pan. It uses both dark and white chocolate and keeps well in the fridge for a couple of weeks. A nice fudge for a special occasion. I normally serve this fudge cut into small rectangular pieces.

I know I probably ruined this recipe for all coffee lovers, but I couldn't bring myself to include that one ingredient! And still, the resulting little nuggets of sweetness were great! ABSOLUTELY WONDERFUL FUDGE, & a definite keeper of a recipe! [Made & reviewed as a recipenapped tag in the Aus/NZ Special Recipe Swap #19]
Place first 5 ingredients in container and microwave on high for 1 minute, stir till smooth, It may need a further 30 seconds.
Stir in Chopped Almonds and Vanilla and pour into a foil lined 5 x 8 inch rectangular pan, place in fridge to set whilst you prepare the top layer.
Place white chocolate and second lot of condensed milk in micro container and micro for 30 seconds, stir and remicro for a further 15 seconds if needed till smooth.
Add flaked Almonds and stir, then pour over top of dark chocolate fudge layer patting down till smooth.
Place in fridge to set.