Ambervim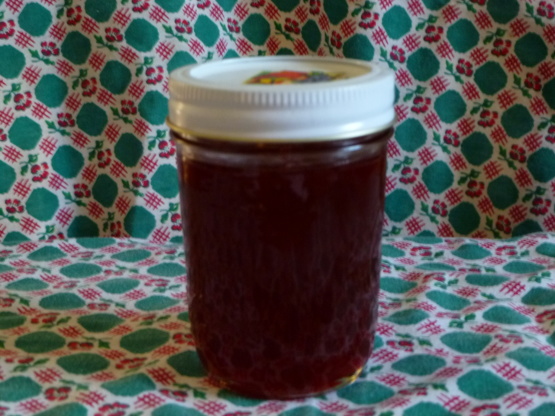 I added a cup and a half of mixed finely chopped hot peppers and used one envelope pectin. Also used 3-4 drops of green food coloring to make it prettier. Awesome jelly! Made 6 half pints plus 3 1/4 pint jars. One had to go in fridge right away so we could eat it! lol I hot bath the load for 5 minuetes just because I feel safer that way. Thanks for sharing this recipe Dancer. Can do hot Mexican Dance with this jelly! O'lay!
Wear rubber or plastic gloves while cutting hot peppers and do not touch skin or eyes.
To mince peppers, using a sharp knife, cut off tops and slice lengthwise.
Discard seeds and white membrane.
Cut lengthwise in 1/8-inch strips, then cut very fine crosswise strips.
Sterilize 8 half-pint jars; keep hot until needed.
Prepare lids as manufacturer directs.
In a large kettle, combine minced peppers, sugar and vinegar.
Bring to a boil.
Remove from heat; let stand 5 minutes.
Using a metal spoon, skim off any foam.
Increase heat to high.
Return kettle to heat and bring back to a full rolling boil that cannot be stirred down.
Stir in pectin and boil exactly 1 minute, stirring constantly.
Remove from heat and ladle into hot jars, leaving 1/8-inch headspace.
Wipe jar rims and seal with hot lids and screw bands.
Invert jar 30 seconds, then stand upright to seal.