flower7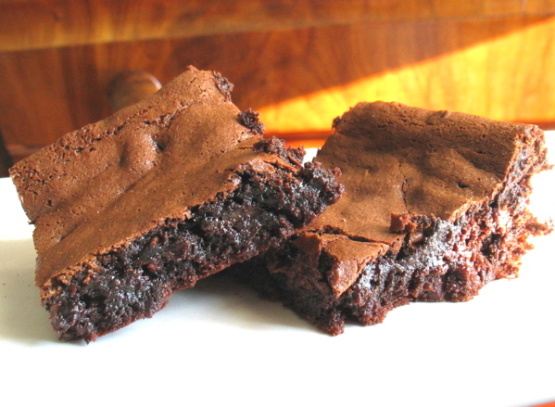 These definitely lived up to their advertising - they were fudgey, yummy, and gooey! I was very curious how this would come out, not having any fat except the egg (and chips/nuts). They really surprised me, though they are definitely best when still warm from the oven! I left out the nuts and doubled the chocolate chips with great results. Thanks for the recipe!
Preheat oven to 350 degrees F. Spray an 8-inch square baking pan with vegetable cooking spray.
In a medium bowl, combine flour, cocoa, baking soda, and salt. Mix well; set aside.
In a large bowl, combine the sugar, egg, and egg white. Mix well. Whisk in th corn syrup and vanilla until well combined.
Gradually stir flour mixture into the sugar mixture until smooth. Fold in chocolate morsels and walnuts. Spread batter evenly in prepared pan.
Bake until mixture starts to pull away from sides of pan, about 25 minutes. Place pan on a wire rack and cool for 10 minutes. Turn out onto rack and cool completely. Cut into squares and serve.