Double Delight Peanut Butter Cookies
Katzen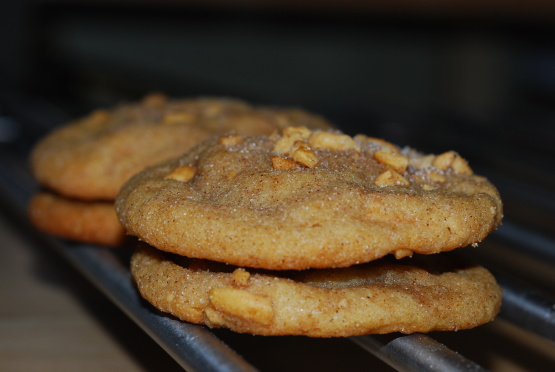 It was love at first bit! A co-work made these the other day and they were delicious. The recipe she brought in shows the recipe was created by Carolyn Gurtz, winner of the 2008 Pillsbury Bake-Off Contest.

These are the best peanut butter cookies ever. They're quite easy to prepare, too. So it makes it an easy recipe to whip up whenever you need or want cookies. The soft peanutty center goes together well with the outer peanut butter cookie base that produces a twice-as-nice treat. Thanks, Debbwl.
Heat oven to 375°F
In small bowl mix chopped peanuts, granulated sugar and cinnamon. Set aside.
In another small bowl, stir peanut butter and powdered sugar until completedly blended. Shape mixture into 24 balls, about 1 inch each.
Cut cookie dough slices in half crosswise to make 24 pieces, flatten slightly. Shape 1 cookie dough piece around 1 peanut butter ball, covering completely. Repeat with remaining dough and balls.
Roll each covered ball in peanut and sugar mixture. gently pat mixture completely onto balls. On ungreased large cookie sheets, place balls 2 inches apart. Sprinkle any remaining peanut mixture evenly on tops of cookies, gently press into dough.
Bake 7 to 12 minutes or untill edges are golden brown. Cool 1 minutes before removing to cooling rack. Store tightly covered.