Double-Decker Confetti Brownies
kml1985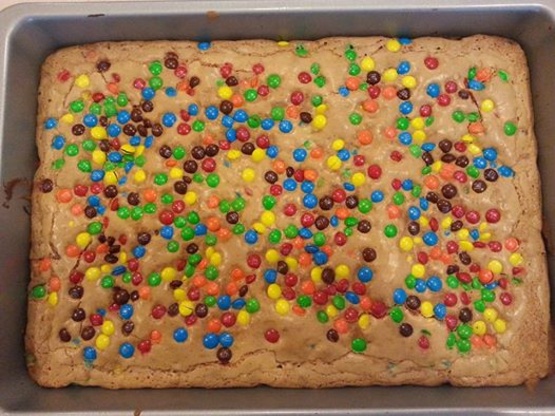 M & M's make these a fun addition to any children's party but adults will love them as well. For easier slicing, turn cooled brownies upside down on a cutting board. The tops won't crumble when the bars are cut from the bottom.

These brownies were gobbled up fast at my son's Scout meeting. DS whispered to me, we have some left at home for us, right! Just loved the soft and chewy texture of these brownies. I can see I will be making this a lot! Thanks Karen.
Preheat oven to 350 degrees (176 celsius).
Lightly grease a 13x9x2-inch baking pan; set aside.
Cream together 3/4 cup butter and both sugars in a large bowl until light and fluffy.
Beat in eggs and vanilla.
In a seperate medium size bowl, combine 2 1/4 cups flour, baking powder and salt; blend into creamed mixture.
Divide batter in half.
Blend together cocoa powder and melted butter; stir into one half of the dough.
Spread cocoa dough evenly into the prepared pan.
Stir remaining 1/4 flour and 1/2 cup M&M's baking bits into remaining dough; spread evenly over the cocoa dough in the pan.
Sprinkle with remaining M&M's baking bits.
Bake 25 to 30 minutes or until edges start to pull away from sides of the pan.
Cool completely.
Cut into bars.
Store in tightly covered container.