Boomette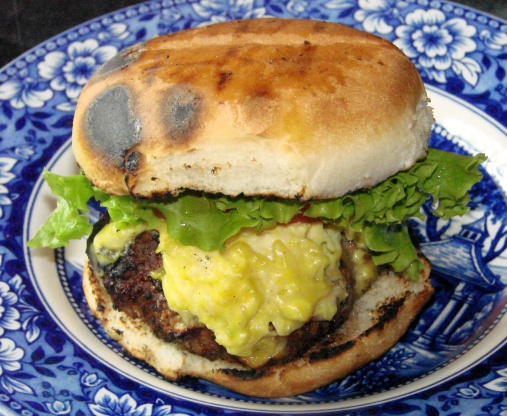 I got this recipe from the Taste Of Home Cookbook. The recipe is originally from Marcy Schewe, in Danube Minnesota. Amazingly good recipe.
Yummy burgers. I did the topping only for me, a small quantity. Cause DH doesn't really like mayo and my son likes his burgers with only ketchup. They both loved the meat, how it was seasoned. We added plain breadcrumbs cause DH found them too moist. The topping is so yummy. We baked these burgers and buns on the bbq. I topped mine with fresh lettuce and tomatoes. Thanks Crazycookinmama :) Made for Newest zaar tag
In a large bowl, combine the eggs, onion, worcestershire sauce, salt and pepper. Crumble beef over mixture and mix well. Shape into 12 thin patties. Broil 4 inches from the heat for 7-8 minutes on each side or until no longer pink.
In a small bowl, combine the cheese, mayonnaise, mustard and relish; mix well. Spoon 2 tablespoons on each burger. Return to the broiler just unil cheese softens. Serve on buns with lettuce, onion and tomato.