Double Crust Peach Cobbler
CindiJ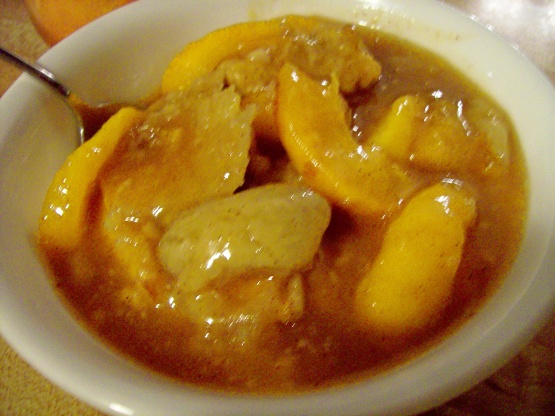 I live and grew up in the midwest and here what makes a cobbler is a top and bottom crust. This crust is kneaded in order to have a true cobbler texture which is a bit tougher texture than a cake or pie dough. I also prefer using margarine instead of butter for the small salt content that adds flavor. I have adjusted the sugar amount in this recipe..after reading a few reviews. It depends on how sweet your peaches are..adjust to your liking!!
This recipe is fantastic! I am relatively new to baking, and usually don't deviate from the given recipe. I did with this recipe only because I didn't have fresh peaches. I used canned peaches, didn't have nutmeg, so used a little extra cinnamon and vanilla. I used cornstarch only because I personally prefer it to flour. As I said, I'm fairly new at this, and I used a little too much cornstarch. I had a can of apricot nectar in the pantry, so I thinned it with that. I doubled the dough recipe and rolled out enough for the two crusts. Then I cut some into strips, baked them by themselves. I poured half of the filling on top of the bottom crust. Then I placed the baked dough strips on top of the filling. Then I poured the rest of the filling on top of the strips, and then put the second crust on top, and baked it. It turned out so fantastic! Thank you for a fabulous recipe; it's a definate winner!
2

cups flour

1

teaspoon salt
3⁄4 cup Crisco (plain or butter flavor)
1⁄3 cup ice water

For the filling

4

lbs fresh peaches, peeled and sliced

2

cups sugar

4

tablespoons flour

1

teaspoon cinnamon
1⁄2 teaspoon nutmeg

1

teaspoon of good vanilla
Preaheat the oven to 350 degrees.
In a mixing bowl, combine flour, salt and Crisco.
Mix until the mix is crumbley, add water and mix well.
On a floured surface, knead the mixture several times or about 3 minutes.
Cut mixture in half, form into two balls and cover with plastic wrap and chill.
Add sugar,flour and spices to peaches.
Melt the butter in a large saucepan over medium heat, add peaches and mix well.
Simmer for 7 minutes Remove from heat and cool. Add vanilla.
Remove dough from fridge and roll out one crust on a floured suface into a rectangle.about a 12x10. Place in a greased 11x9 baking dish.
Pour filling over the crust. Add just a few small pieces of butter or margarine random on top of mixture.
Roll out second ball on floured surface and cut into strips. Place strips in any form.weaved or otherwise on top of peach mixture. Swab top strips with softened butter with a brush or paper towel.
Sprinkle top with a mixture of cinnamon and sugar.
Bake for 30-40 mins until golden brown.
Let rest for about 10 minutes so crust will set.