Double Crunch Bumbleberry Crisp
flower7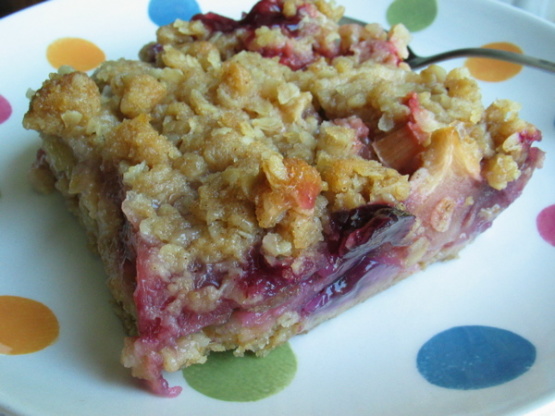 I love rhubarb and I found this recipe on the Rhubarb Compendium

Oh my goodness! This stuff should be illegal! 10 stars for sure! LOL I too love rhubarb and the combination with the fruits was awesome! I also loved that this was so simple - the streusel was some of the easiest I've ever made - no cutting in butter to make the crumbs...yay! :) I just wish these fruits were in season all year long so I could make this all the time LOL Thank you so much for the recipe!!
Combine flour, oats, brown sugar, cinnamon, and nutmeg. Stir in butter. Press 1/2 of the mixture into a greased 9" square cake pan.
In small saucepan combine sugar and cornstarch. Whisk in water and rind until smooth.
Bring to boil, reduce heat to med-low and cook 5 min or until thickened and clear, whisking constantly.
Toss together fruit. Arrange over base. Pour sauce over top.
Sprinkle with remaining flour mixture.
Bake in a 350°F oven 50-60 minutes or until fruit is tender and topping is golden. Serve warm.