PanNan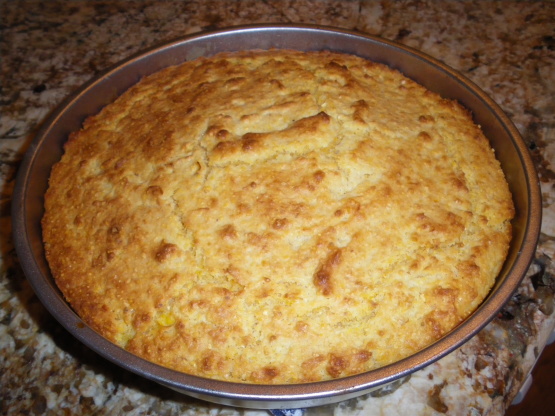 From America's Test Kitchen. I've had some cornbread that is almost cake-like and sweet. If that is what you're looking for, this is not it. This does have a very good, somewhat coarse texture. Perfect served up with your favorite chili! :) They recommended baking this in a cast-iron skillet, but I had very good results usimg a 9-inch round cake pan.

Top Review by PanNan
The texture of this cornbread is wonderfully tender and moist. The addition of the chopped corn is very nice. I used stone ground corn meal and baked it in a round cake pan. It rose very nicely and was perfectly golden brown after 20 minutes. Thanks for sharing, Beth.
Adjust oven rack to middle position and heat oven to 450 degrees.
Whisk cornmeal, flour, sugar, baking powder, baking soda, and salt in large bowl.
Pulse corn, sour cream, eggs, and hot sauce in food processor until corn is coarsely chopped and mixture is combined.
Fold corn mixture into cornmeal mixture, then stir in melted butter.
Add vegetable oil to 9-inch round cake pan, and place the pan in the preheated oven for 5 minutes.
Take out of oven and quickly add batter; return pan to oven.
Bake until toothpick inserted in center comes out clean, about 20-25 minutes.
Cool cornbread in pan on wire rack for 20 minutes.
Serve warm.