Double Coconut Cake With Fluffy Coconut Frosting
Bonnie G 2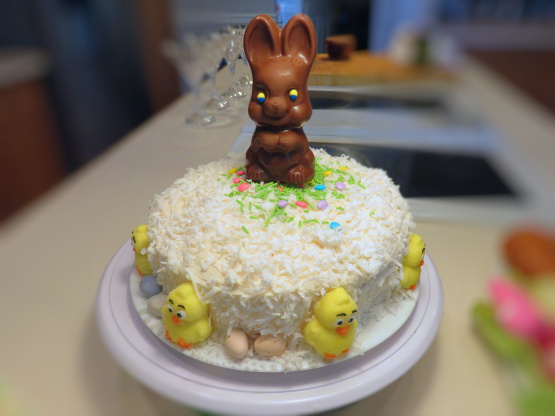 Special occasion cake, great birthday cake! Edited from Cooking Light.

EXCELLENT! This cake rises beautifully and retains both it's moisture and flavour (even 3 days later!!). The frosting (a boiled frosting like my Mama used to make & I never could!) is supurb!!! Easy to make (use a candy thermometer for a proper temp reading - it's essential! A heavy bottomed saucepan is your best choice here) and the flavour is magnificent!! My husband actually asked for a 2nd piece (he never asks for 2nds of anything!!!) As a variation, use maple flavouring and top a chocolate cake - WOW!! THANKS for this excellent recipe, one I'll be making again and again!!!
Preheat oven to 350 degrees.
Coat 2 (9 inch) round cake pans with cooking spray, dust with 1 tablespoon flour.
Combine 2 1/4 cups flour, baking powder,and salt, stirring with a whisk.
Place sugar and butter in a large bowl, beat with a mixer at medium speed until well blended (for about 5 minutes).
Add eggs, one at a time, beating well after each addition.
Add flour mixture and milk alternately to sugar mixture, beginning and ending with flour mixture.
Stir in vanilla.
Pour batter into prepared pans.
Sharply tap the pans once on countertop to remove air bubbles.
Bake at 350 degrees for 30 minutes or until a wooden pick inserted in the centre comes out clean.
Cool in pans 10 minutes on wire racks, and remove from pans.
Cool completely on wire racks.
Place 1 cake layer on a plate, spread with 1 cup fluffy coconut frosting.
Sprinkle with 1/3 cup coconut.
Top with remaining cake layer, spread remaining frosting over top and sides of cake.
Sprinkle with 1/3 cup coconut over top of cake.
Store cake loosely covered in refrigerator.
Fluffy coconut Frosting:.
Place egg whites, cream of tartar, and salt in a large bowl, beat with a mixer at high speed until stiff peaks form.
Combine sugar and water in a saucepan, bring to a boil.
Cook, without stirring, until candy thermometer registers 238 degrees.
Pour hot sugar syrup in a thin steam over egg whites, beating at high speed.
Stir in extracts.