Carol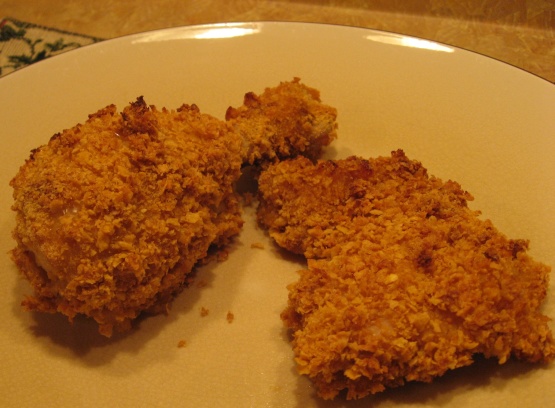 I got this recipe off a box of Kellogg's Corn Flakes.

This is VERY crunchy chicken! I like it like that. The batter needs some flavor so I add some garlic powder and smoked paprika. I also brine my chicken in 4 cups of water with a handful of kosher salt and a handful of white sugar for four hours. Give this recipe a try it is delicious.
Place corn flakes in shallow dish or pan; set aside.
In small mixing bowl, beat egg and milk slightly. Add flour, salt and pepper; mix until smooth.
Dip chicken in batter; coat with cereal.
Place in single layer, in foil-lined shallow baking pan.
Drizzle with margarine.
Bake at 350° for 1 hour or until chicken is tender, no longer pink and juices run clear. Do not cover pan or turn chicken while baking.