Double Chocolate Zucchini Cookies
Jollymae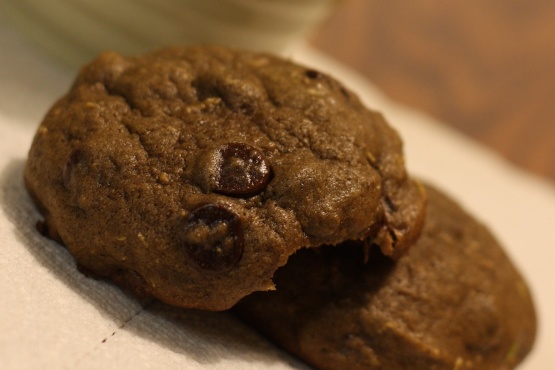 There are a great way of sneaking a vegetable into your baking. You will not taste the shredded zucchini in this recipe. The Zucchini provides moisture to this cookie and make these cookies soft and almost muffin like. These cookies will not be like your standard drop cookie, these will be a rounded soft cookie. Give these a chance, you won't be sorry in the end.

YUMMY!! These are so chocolaty and delicious!
I used a little over 1/2 cup of pecan pieces instead of the 1 cup of walnuts. I also used 1/2 wheat flour and 1/2 all-purpose flour. I kept the dough in the fridge between baking. Baking time was 9 minutes in my oven. Recipe yielded 3 dozen cookies. My family and friends all loved them.
Combine zucchini, brown sugar, baking soda and margarine.
Mix egg and vanilla into zucchini mixture.
Add remaining ingredients.
Chill dough 1 hour in the refridgerator.
Drop by rounded teaspoonfuls.
Bake at 375 degrees for 10-15 minutes --
Do not overbake, these will be soft to the touch but, will firm after sitting.