Double Chocolate Surprise Brownies
Prep 20 mins
Cook 30 mins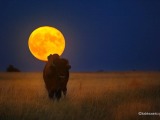 Found this on an old index card and not really sure who gave it to me, so cannot honestly give credit where credit is due, but these brownies are a nice change from the normal brownie and I hope you like them as well as I did.
Directions
For brownies:.
Cream butter& sugar until smooth.
Add eggs, continuing to mix well Add vanilla Mix in the baking powder, salt and melted chocolate, stirring well.
Slowly add the flour, then fold in chocolate chips and nuts.
Reserve 1 cup of the mixture and pour remaining mixture into 9 X 9 square pan. Use Pam or parchment paper to line pan, for easier removal.
Filling:.
Whip the cream cheese and butter together.
Gradually add the sugar, mixing together well.
Add the egg, vanilla and then the flour mixing well Pour the cream cheese mixture over the brownie mix in the pan.
Take the 1 cup of the reserve brownie mix and drop by spoonfulls over the cream cheese mixture and swirl slightly to"marble" the brownies.
Bake in a pre-heated 350 degree oven for 30-35 minutes.
Let brownies cool and cut into squares to enjoy!
Reviews
Most Helpful
Oz, I owe you a recipe from the football pool a few weeks ago. These are great! Not overly sweet but just right. I love the use of cream cheese with the brownies. I just hope I don't eat the whole pan! I will definitely making this again ;)
Thanks for a great treat Oz! This is a nice cakey brownie and I really liked the cream cheese topping! I may add a little more chocolate next time to increase that flavor, I love chocolate!!

OZ...this one is a keeper!!! I made them last night using a springfoam pan and mine turned out beautifully. We are making another pan tonight to serve at a party we are having tomorrow... WHAT A GREAT RECIPE...just enough chocolate, not too sweet and a perfect texture... THANKS for sharing!