Double Chocolate Snowquakes
Glimmer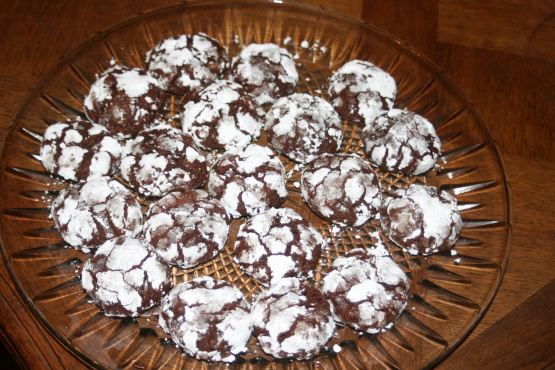 This is a soft, delicious cookie full of wonderful chocolate flavor. Prep time is an estimate...
These are wonderful cookies! I made them for some friends and nearly all of them were eaten up! I made them exactly as the recipe says, except that after they had cooked, I sprinkled some extra powdered sugar on. These are definitely a keeper, and I can't wait to make again!
Combine flour, cocoa, baking powder, and salt.
Cream butter until fluffy.
Add brown sugar and white sugar to creamed butter, beating well; beat in eggs and vanilla.
Beat flour mixture into butter mixture until a soft dough forms.
Stir in chocolate chips; cover with plastic wrap and chill 1 hour.
Shape 1 T dough into ball and roll in powdered sugar, repeating with each cookie.
Bake cookies (on pan lined with parchment paper) at 350° for 10 minutes, and remove to rack to cool.