Double Chocolate Ooey Gooey Butter Cake Ice Cream (Paula Deen)
Pneuma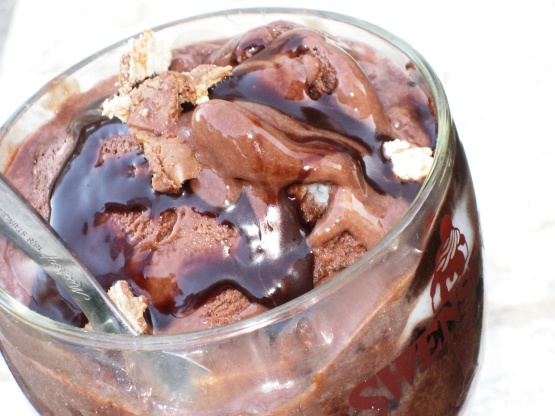 I saw this a month or so ago on Paula's Party and had to try it. Our family has found their new favorite ice cream! It is chocolate overload, so only for a true chocoholic!! :D This was made in individual containers on the show, but I made a whole dessert using a whole quart of ice cream and layered in a bowl and ended up only using about 1/2 of the cake.

Top Review by Pneuma
Omg, this is so rich so good, so sinful DH was so impressed to the point that he said I don't cook well but my desserts are just amazing. Bah! He didn't even want to divide the huge ice cream glass (the one on the photo) and wanted to eat it all himself especially when he found out that I used sugar free chocolate ice cream, 8 oz sugar substitute instead of the powdered sugar, and sugar free chocolate covered wafers.I also placed a tsp of vanilla ice cream for a bit of contrast and used a mixture of pistachios and cashew nuts in the cake and topped this decadent chocoholic's dream with chocolate fudge. My, my, my! Thanks for sharing this, SweetsLady! We truly enjoyed it :) Made for PRMR.
Preheat oven to 350 degrees. Lightly butter a 13x9 pan.
In large bol, combine cake mix, 1 egg, and 8 T. (1/2 cup) melted butter, and stir until well blended. Pat mixture into prepared pan and set aside.
In stand mixer or with hand mixer, beat cream cheese until smooth. Add the remaining 2 eggs and cocoa powder. Lower the speed of the mixer, and add the powdered sugar. Continue beating until ingredients are well mixed. Slowly add the remaining 8 T. (1/2 cup) of melted butter and vanilla. Continue to beat the mixture until smooth. Stir in nuts with a rubber spatula. Spread filling over cake mixture in pan.
Bake for 40-50 minutes. Be careful not to over cook the cake; the center should still be a little gooey when finished baking.
Let cake cool completely before cutting into pieces.
Place scoops of ice cream interchangeably with brownie bites, cookie crumbs, nuts, and fudge. Mix together. (I didn't mix but just scooped out!) :D.
Enjoy!