DuChick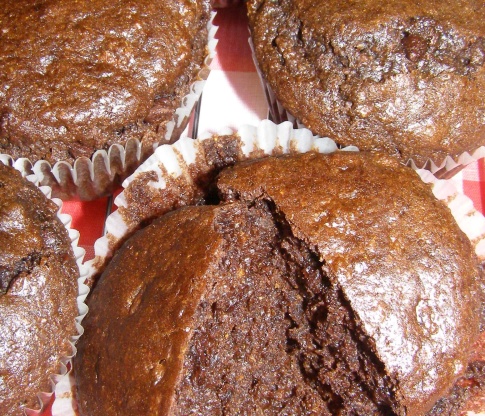 Whole wheat flour and high-fiber cereal are the goodies tucked in a chocolate-lover's sweet muffin. From the fiberOne.com Web Site.

Top Review by ShaGun
I had really high hopes for the recipe from the other reviews. I was kind of disappointed. I was hoping for something that tastes like a VitaTop Muffin. This doesn't. This was tasty, but it does taste healthy. It has a great texture for being healthy, though. It feels like you're eating a not-too-sweet, slighlty gritty chocolate cup cake. I would make this again.
Heat oven to 375°F Place paper baking cup in each of 12 regular-size muffin cups. Place cereal in resealable food-storage plastic bag; seal bag and crush with rolling pin or meat mallet (or crush in food processor).
In medium bowl, mix cereal and buttermilk; let stand 5 minutes. Stir in oil and egg. Stir in remaining ingredients except chocolate chips. Stir in chocolate chips. Divide batter evenly among muffin cups.
Bake 15 to 20 minutes or until toothpick inserted in center comes out clean. Immediately remove from pan. Serve warm.