Double Chocolate Mini Brownies - Company's Coming
Diana 2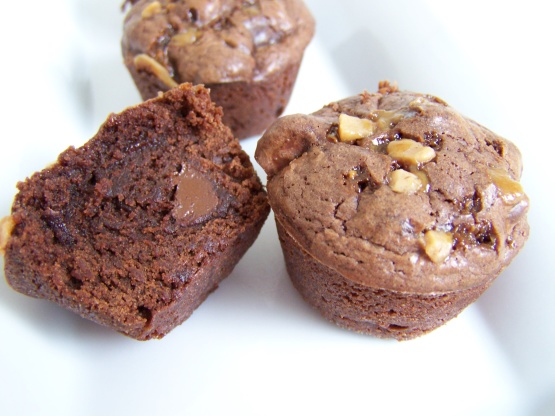 A 'Chocolate Lovers' dream. :) Moist, chewy, quick to make. What more could we ask for? Toffee!!! I took the liberty of topping these gems off with a sprinkling of toffee bits. Whichever road you decide to take, the trip is very worthwhile. Another winner from the Company's Coming Cookbooks.

Well, I tried these twice. The 1st time I was dissatisfied. I pretty much followed the recipe (no toffee bits), only instead of chocolate chips I used chopped bakers chocolate squares. They turned out okay, but dry and a bit flavourless (probably because of the dryness). The 2nd time, I upped the butter and cocoa a touch, used chocolate chips and upped those a tiny bit too, and I baked for about 12 minutes instead of 15. The second batch came out infinitely superior, with a soft chewy texture and even a little bit of that crackle look on the top. In short, it seems I like my brownies a bit more moist and a bit less well done (but then, I'll just eat batter, so consider the source ;) Thanks for posting!
177.44

ml all-purpose flour

118.29

ml cocoa, sifted

1.23

ml salt

236.59

ml white sugar

78.07

ml butter, melted (or hard margarine)

2

eggs, large

177.44-236.59

ml semi-sweet chocolate chips
Skor English toffee bit (optional)
Preheat oven to 350°F.
Greased and flour 24 mini-muffin cups.
Combine first 3 ingredients in small bowl.
Whisk next 3 ingredients in medium bowl until combined. Add flour mixture. Stir well. Then add the chocolate chips.
Fill muffin cups 3/4 full.
Sprinkle with toffee bits if using.
Bake for about 15 minutes until wooden pick inserted in centre of brownie comes out moist but not wet with batter. Do not overbake.