Double Chocolate Freckle Cookies (Biscuits)
Katnic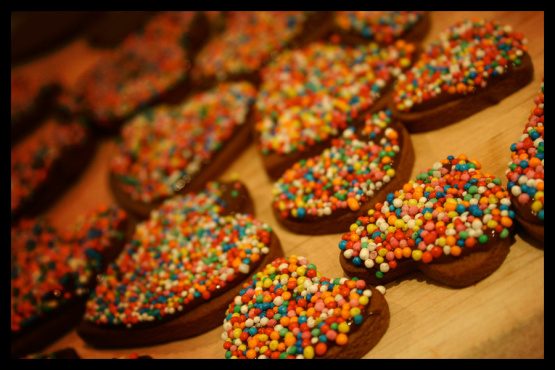 These biscuits are a cookie version of the Aussie chocolate. Kids especially seems to love them. The recipe calls for you to use 3cm, 5cm & 6.5cm round cutters - the yield is based on using these cutters. Of course you could do them all the same size. From Australian Women's Weekly: Cookies book.
Place butter, sugar and egg in a small bowl and beat with electric mixer until combined. Sift together both flours and the coco. Stir sifted ingredients into mix, in 2 batches.
Knead dough on floured surface until smooth. Roll dough between 2 sheets of baking paper until 3-5mm thick. Refrigerate for 30 minutes.
Preheat oven to 180 deg C, 356 deg F. Grease & line trays with baking paper.
Cut 14 rounds using each of the 3 sized cutters (42 total). Place the 3cm cookies all on 1 tray. Place the remaining cookies on other trays.
Bake small cookies for about 10 minutes and larger cookies for about 12 minutes. Cool on wire racks.
When cool, melt chocolate by your preferred method. Spread tops of each cookie with chocolate and sprinkle with the candy. Place aside to set.